Home
As our basic activity, we have the development and conception of projects [ideas] up to their final conclusion. It is in the middle of this process that we materialize what we value the most: well-being and social development, aiming at the improvement of quality of life.
This is out essence, the raw material of the work we made 34 years ago. Our History.
Welcome to the MG Portal! Please access the Groups' companies websites:
Our History
Mendes Gobbi Architecture was created in 1980 as fruit of the materialization of a professional dream cherished by a couple of architects, Paulo Cezar Gobbi and Maria Lúcia Mendes.
Since the beginning, we cherish for a unique identity to help people feel comfortable with themselves, interacting with their environment.
As nothing is permanent and the evolution is part of Life, just like the company, the family grew, got mature, and continues its evolutionary process. As well as Mendes Gobbi Arcuitecture, other fruits of this history are the architects' daughters, Priscila and Bruna, who are part of the group today, acting in the areas of graphic design, publicity, and art. They came to cooperate and add to the multifunctional identity of the company.
The company is born, establishing its headquarters at Ceisa Center building, in downtown of the beautiful Island of Florianopolis.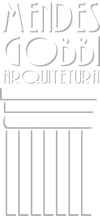 The fact of being able to be nearer the daughters (and home) and having to commute less to work became
a reality when the office moved to the continent years ago. Right after that, the logo was redesigned,
once we were moved by the impetus of renovation and updating.

MG Eco Design arises with the intent of creating more and more sustainable projects. Gobbi Arquitetos is restructured
and launched on the market.

Finally, Mendes Gobbi Art is created, a creative space specially destined to communicate, either through design, advertising or art.
About Us
We are a group of people with common objectives and individual capabilities that cooperate. As our root we have Mendes Gobbi Arquitetura, which has been in the market for 34 years. Nowadays, the Group is formed by Gobbi Architectes, Mendes Gobbi Eco Design, and Mendes Gobbi Art.
All of this in order to meet the client needs whatever they are within these areas that complement one another. We have as mission being a multifunctional team who will share ideas, create and conclude projects together with the main part of this group: you.
Priscila
Graphic Designer at MG.Art
Paulo Cezar
Gobbi Arquitetos Founder
Maria Lúcia
MG Eco Founder and Idealizer
Bruna
Publicist at MG.Art